Lyrical Deconstructions
Vivid Components of Landscapes and Abstractions from Artist Harry Whitver
---
OPENING RECEPTION   Invite Only
FREE PUBLIC EVENT   October 1, 2016 | 6- 9 p | Arts & Music @WeHo Crawl | All Ages
Visit Facebook Event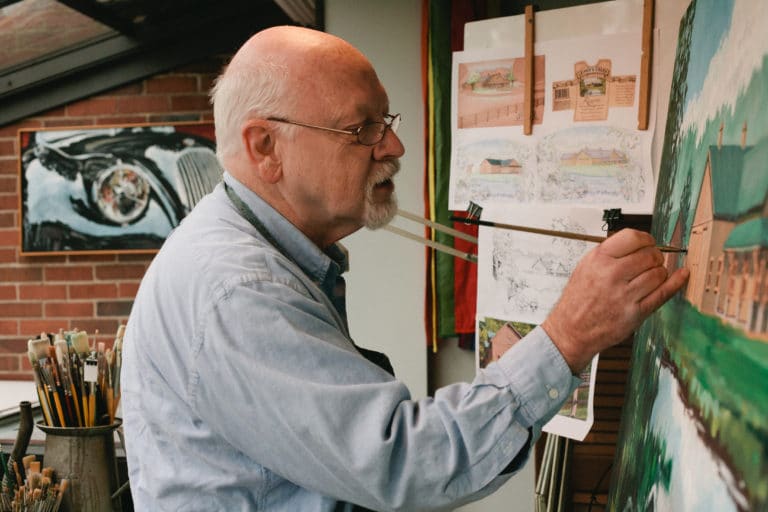 photo of Harry in his studio by Eden Frangipane Shepherd
Nashville, TN – abrasiveMedia is honored to present
Lyrical Deconstruction
from renowned local illustrator, Harry Whitver. This collection of oil paintings is inspired by Whitver's love of the natural beauty of this region, expressed with a compositional style that owes much to his familiarity with the intricacy of machines.
Lyrical Deconstruction
will be free to view and open to the public at abrasiveMedia during the Arts & Music at Wedgewood Houston art crawl on October 1, 2016 from 6-9 pm, and will be enjoyable for all ages.
After graduating from Peabody College, Harry Whitver honed his illustration skills as a combat artist in Vietnam. Once his tour was completed, he embarked on a 35-year commercial art career providing technical, airbrush, and expository illustrations and design for companies such as Smithsonian Air & Space magazine, ForbesLife, LA Times, National Geographic, and others. Throughout his life, Whitver has also experimented with oil on canvas to make room for his own artistic voice. In the past three years, his painting has drawn him into an entirely new direction, inspiring him to spring into a new phase of his long career. Whitver explains:
"In late 2013, I completed a small abstract landscape I named "Southern Wild". At first, I really didn't know what to make of it. Executed in oil paint and worked with black line, it had a distinct graphic signature unlike anything I had seen before. I have always admired Ken Dallison's unique line and watercolor style, as well as Paul Klee's line and color sense, but this painting was different. I applied the technique to landscapes and pure abstractions, as well as deconstructed versions of both, and found it was a perfect style for my sensibilities."Harry Whitver
Whitver's creative risk has proved to be well worth the investment.
Lyrical Deconstruction
is composed of highly structured and lyrically abstract pieces that designers will love; every inch of the canvases is both ecstatically explored and thoughtfully considered.  Each painting conveys Whitver's keen appreciation for the components of a landscape or abstract scene, viewed through the lens of one who can visually communicate the working parts of a machine. Lyrical Deconstruction will be the signature visual art installation at abrasiveMedia for Artober (
artobernashville.com
).
Harry Whitver's work can be viewed online at whitver.com. abrasiveMedia is located at 438 Houston St, Ste 257 in Nashville. In addition, through the Tennessee Art League (tennesseeart.org), Whitver is currently showing at the Hutton Hotel, at 1808 West End Avenue. Collectors may contact Audra Almond-Harvey at audra@abrasivemedia.org for more information on advance purchases and private showings.
---
# # #
If you would like more information about this topic, please contact Audra Almond-Harvey at 615-331-3131
or email at audra@abrasivemedia.org.
abrasiveMedia | 438 Houston St, Ste 257 | Nashville 37203 | grow, connect, produce, and give back | abrasivemedia.org