Thirteen seasons of community classes, and a break.
abrasiveMedia is a non-profit organization that exists to facilitate artists in Nashville. Painters, writers, photographers, actors, dancer, aerialists, sculptors, musicians... we've helped artists of all types make and show incredible art that impacts the Nashville community.
Part of that impact comes in the form of affordable arts classes lead by our resident artists. FALL was one of our first resident artists, and their aerial arts classes have been going strong for over 7 years. Its popularity (and general awesomeness) is undeniable.
The last 6 years of abrasiveMedia's growth have taken place inside Houston Station, thanks to a generous residency by the building's owners. In that time, the building and the surrounding area have undergone vast changes that have significantly raised the cost of space in this neighborhood while also diminishing accessibility. These factors, combined with the continued growth of our organization have lead us to the end of our residency.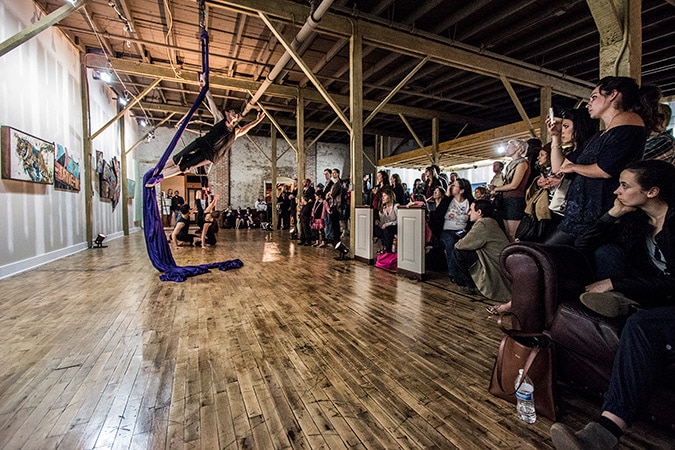 abrasiveMedia IS NOT closing, but our Houston Station studio is.
Since February we've made significant efforts to secure a new temporary location for the aerial classes while we continue working on the future home of abrasiveMedia. Unfortunately, our options for short term or temporary space with an immediate move in date have ALL fallen through.
While we had hoped (& tried really hard!) to not take more than two weeks off, while transitioning to a new location, forcing that timeline is obviously not working. So, we're preceding with another plan. In 2017 FALL graduated from being a resident artist of abrasiveMedia to being its own independent non-profit organization. We were planning on transferring the aerial classes from being an aM program to a FALL program later this year. Since the aerial classes will now have a longer break than previously intended, we felt like this would be a great time to start the transfer of ownership. So here's the plan:
Over the summer FALL will be offering group training times at the park, as well as some floor-based, supplemental training classes.
Aerial classes are expected to resume in August/September under the full direction of FALL.
While we're disappointed about the forced break in aerial classes, we're still super excited about what the future holds for both abrasiveMedia and FALL. We're also super grateful for you and your involvement in this community.
---