by Kristen Chapman Gibbons
Occasionally abrasiveMedia shares stories from our community partners. Kristen sat down with Alicia Searcy (Nashville's disabled style blogger extraordinaire) to discuss Alicia's story, what inspires her about fashion, and the event she's hosting this Friday. Scroll down to the bottom for more details on the event!
---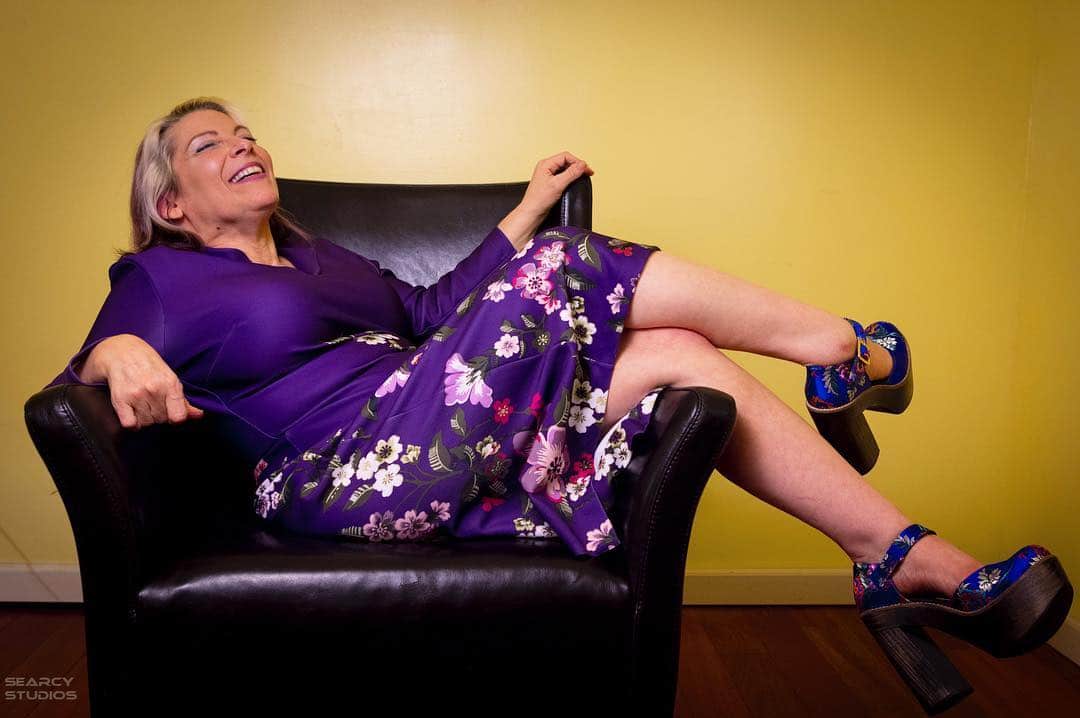 Alicia Searcy
has a story to tell.
Lots of stories, actually. Stories about transformation and acceptance. Moments where all of life seems to turn on a decision. Alicia's nonprofit, Fashion Is For Every Body was only a dream for a long time. It took the death of David Bowie to really get her attention. "That really hit me in the head," she said, "and I realized I had to do this now, that in his words, 'tomorrow isn't promised.'"
Searcy, Nashville's disabled fashion and style blogger and author of Spashionista, and Krystle Ramos, owner of Pura Vida Vintage, wanted a runway that was more inclusive. They had been imagining what diverse representation would look like, and produced their first show in the Fall of 2016. On September 8th Searcy joins her partner, Empower Tennessee, in producing the third annual re-imagined fashion show, Boundless.
As it is with most stories, the interesting bit is not at the end, but in the muddy middle. So, how did she arrive at this moment? To understand, we have to go back.
---
LAZARUS
Alicia didn't start with an interest in fashion. Or rather, any interest she had was tainted by enormous pressure from her mother. Alicia's mother was born in Cuba and her father in France. They immigrated to New York City in 1960 with five dollars on hand. The change was devastating to her mother, whose unhappiness was directed at Alicia. A model and a fashionista, her mother placed a high value on looking a certain way.
"She was emotionally abusive. She would always criticize my chunky arms, chunky midriff, my feet were too wide, I couldn't be pretty. She tried to get me into her world, but that just got me an eating disorder. For about ten minutes, in 1984, I weighted ninety-two pounds. I was wearing a size twelve in Girls clothes. She used to have an eighteen inch waist, and she wanted me to, and then I did, and she said, 'Ok, just ten more pounds.' And something woke me up, like this is crazy."
Alicia put some distance between her mother and herself. She was living in Ft. Lauderdale, which she describes as, "gross." Meeting her partner Clint in Florida was the prize. They just celebrated their twenty-eighth anniversary. Clint took a job in Nashville in 1995, and they've been here ever since.
CHANGES
They lost nearly everything in the flood in 2010. It was around this time that Alicia began an experiment. She was annoyed that everytime she was out with Clint, people wouldn't talk to her, they would talk to him about her. She says, "I was dressed so poorly, they assumed because of the wheelchair, that I didn't have any mental capacity, assumed I couldn't speak or understand." She started to put some effort into her appearance, her clothes. It made a huge difference. "It started as an act, and then it became something more."
Fashion isn't the same for everyone. Some people prize it throughout their lives. Some people never put too much emphasis on the way they look. And others, like myself and Alicia, come to fashion as we come to the fullness of ourselves. "I came to terms with my own body, as it is, I came to terms with the things I like to wear and do, the ways I like to be seen by others. Fashion is a language and you can express whatever thought you have that day, through what you are wearing. Your relationship to fashion can be about your own worth. Sometimes you find your voice when you find your clothes."
---
Join Fashion is for Every Body on Friday, July 27th as they kick off the countdown to the Boundless 2018 Inclusive Fashion Runway Show at abrasiveMedia. The event will feature fashion from previous shows and conversations with Fashion is for Every Body alumnae about their experiences. We'll explore how the language of fashion has changed how they feel about themselves and how others see them. There will also be an announcement about our designers for September's Boundless 2018 and the recipient of the inaugural Kimmie Jones Adaptive Clothing Pattern Award.
Guests will also receive an exclusive discount code for tickets to Boundless 2018 that can be applied for a limited time.
Enjoy light bites including sweets from Dee Dees Cake Pop Shoppe, beverages and a musical performance by Lillie Syracuse.
This event is free of charge, but donations are encouraged.