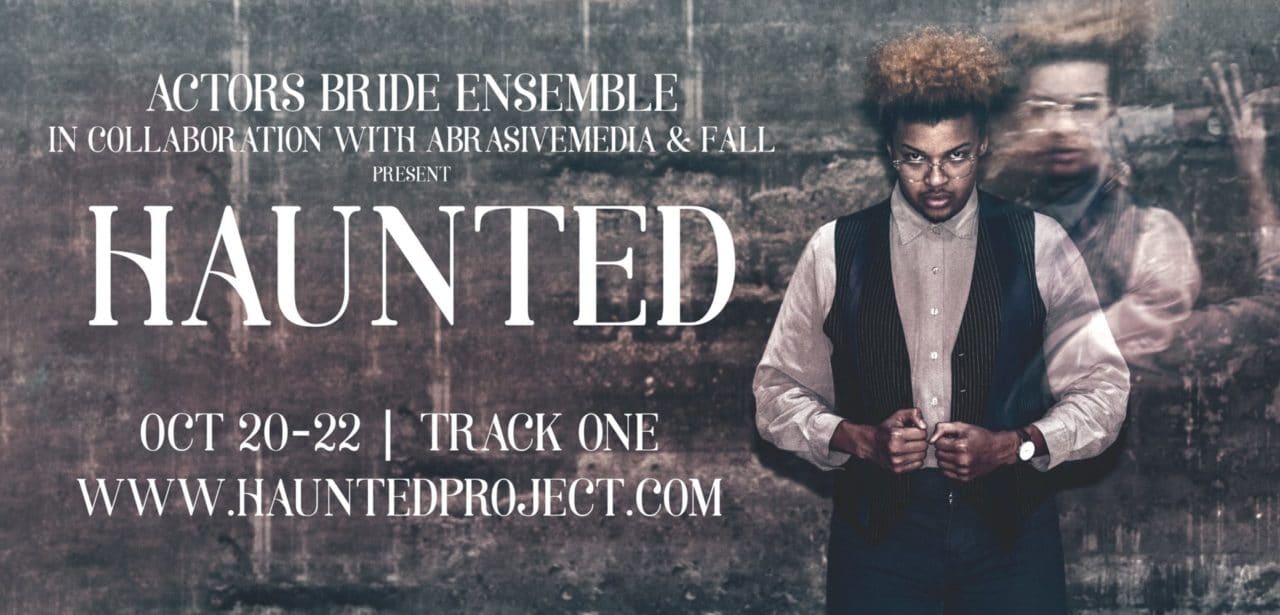 ---
Oct 20-22nd | Times vary
Venue: The Silo Room at Track One
Tickets begin at $30. Buy soon — the price will go up!
Children under 18 must be accompanied by an adult.
The event is handicap accessible. For more information, please email us!
---
More About the Show
The rich history of Nashville – events which happened in our own backyard – has many untold stories. Why are some tales told, but not others? Who decides what becomes part of the common mythology? What injustices have passed by, unnoticed by most?
Inspired by America's deadliest train crash which occurred in 1918 at Dutchman's Curve in the Richland Creek area of Nashville, HAUNTED is a Southern Gothic event crafted to respond to the story of Dutchman's Curve and the venue itself. Audiences will be immersed in a mysterious world filled with innovative dance performances, intimate interactions with characters, and secret rooms, all knit together with a spine-tingling soundscape.
---
Track One
1211 4th Ave S, Nashville, TN 37203
---
Follow our characters' narratives, or make your own way – you aren't likely to have the same experience at HAUNTED as anyone else. HAUNTED is presented in a landscape of art installations which dig deeper into the themes brought up by the story of Dutchman's Curve: what it means to be haunted by the past, the importance of remembering the dead, and the questions raised by our history which are still being explored today. HAUNTED is the prototype of a new method of creative collaboration in Nashville. Performances will be October 20-22 at Track One in Wedgewood-Houston.
HAUNTED will reincarnate silenced ghosts from Nashville's past and give them the voice they were denied. The only question is: how well have you buried your ghosts?
Photography by Ashley Marshall / Pirate Siren Photography.
Models: Dwayne Anthony Benn, Rebekah Hampton Barger, Tavius Marshall, Margaret Horne
Crew, Cast, and Artists
Directed by: Jessika Malone, Actors Bridge Ensemble
Audra Almond-Harvey, abrasiveMedia (Narrative, Co-Curator – Art Installations)
Rebekah Hampton Barger, FALL (Movement)
Tony Youngblood, Modular Art Pods (Co-Curator – Art Installations)
Mitch Massaro, ABE & 1220 Exhibits (Production Design)
Kara McCleland, Musicologist (Sound Design)
Daniel Jones, ABE (Creative Producer)
Madeleine Hicks, ABE (Assistant Director)
Natalie Risk, ABE (Assistant Director)
FALL:
Dorse Brown (Rehearsal Assistant)
Lauren Cougan
Beth Loosmore
Shelby Ring
Michael West, Jr.
Actors:
Jennifer Whitcomb-Oliva
Dwayne Benn
Sejal Mehta
Diego Gomez
Alexandra Huff
Margaret Horne
Shawn Whitsell
Justin Harvey
---
Kat Jones (abrasiveMedia, Kat Jones Music)
Alexis Colbert
Beth Reitmeyer
Ashley Marshall (Pirate Siren Photography, abrasiveMedia)
Audra Almond-Harvey (abrasiveMedia)
Tavius Marshall (abrasiveMedia)
Thaxton Waters (Nashville Public Library Gallery Curator, Art History Salon)
Omari Booker, Painter
Southern Word
Dycee Wildman, Daisy Dukes
Jennifer Bonior, Daisy Dukes
Lindsay Goranson, Daisy Dukes
Brian Somerville, Tank 615
Trey Gossett, Tank 615
Jason York, Tank 615
Sean Perdue, Tank 615
Marlos E'van
Courtney Adair Johnson
Samuel Dunson